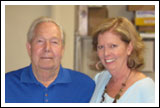 Plan Service LLC is a home design service founded by James Belcher in 1973.  The business was purchased by Anne Marie Hurt, a designer employed by Mr. Belcher for the past 28 years.  Plan Service LLC specializes in custom home designs, remodeling and additions plans.  Our specialty is custom residential design services from small renovations and additions to complete custom home construction.
Anne Marie Hurt, owner and designer, graduated from the University of Tennessee, Knoxville with an emphasis in Interior Design.  Her goal is to provide clients an end result reflecting their wishes and her intuitive design  expertise resulting in a project that is one-of-a-kind and within budget.  In her work with contractors, Anne's goal is to provide all drawings and details needed to construct the project from beginning to end.
Plan Service LLC was named 1st Place Winner, Local Architect/Home Designer, 2008.